Answer to the Pop Quiz: A Razor (In fact, if someone of either gender in Alaska wants to look sexier than the
average Alaskan of either gender in Alaska, they go in for an "Alaskan Wax", also known as a "Bermuda Shorts Wax." If you can't braid the hair above your knees or tie your eyebrows to your beard then you are clearly not a real Alaskan.)
Skagway or Bust!
The only major destination in Southeast that I had not yet visited was Skagway.
Not wanting to drive my trusty little vessel 80 miles North up the Lynn Canal (which is known for big seas - often predicted at 5-6 feet, high winds -- often blowing 30+, scary short chop, Williwaws, and no major anchorages to hide from the weather in), I hopped aboard an Alaskan ferry (the 418 foot M/V Columbia) for the seven hour run North.
The trip (either North or South) traverses water with scenery of incredible beauty and spectacular wildlife and is worth every penny of the $50 ticket each way. The Alaskan Ferry System (also known as the Alaska Marine Highway) is possibly the best way to see Alaska if you don't have your own boat (and perhaps even if you do.) The meals are cheap, the cabins (although basic) are cheap and the scenery is incredible and free. Best of all is that the ferries go off into the corners of Alaska not touched by the more commercially oriented Cruise Ships. (The ferries also go to all of the major cruise ship ports.)
The mistake that I made is that I got off the ferry in Skagway.
Skagway did not fail to not disappoint. (That is not not a double negative.) Skagway is a gorgeous little town that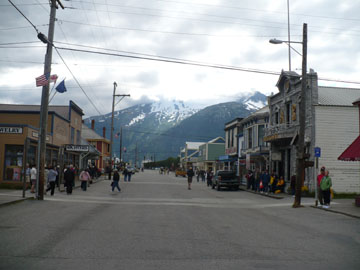 suffers the catch 22 of gorgeous little Alaskan towns with big Cruise ship docks. (There were three ships fully disembarked when I arrived and four ready to disembark when I left.)
The top picture is Skagway at 4 in the afternoon on the day I arrive. The bottom picture is Skagway at 5:30 AM the day I left.
The towns are made pretty by cruise ship money but quickly fall victim to massive overcrowding and cruise ship dock chain stores.
What the hell is Tanzanite and why do so many stores sell it?
Why would a town with a year round population of 836 need to have four furriers, especially when the people are so furry anyway?
Skagway like Sitka, Ketchikan, and Juneau, has significant cruise ship visitation. Unlike those towns, Skagway is way too small to offer anything much other than the cruise ship centric environment. That makes Skagway a bit of a one pony show.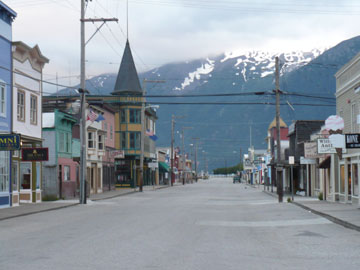 There is one exception to my view and that comes when one is willing to either spend the time or the money to get beyond the bounds of the town. (Based on the number of folks I saw with backpacks or those heading out of town on busses or the train, I figured that lots of folks visiting Skagway by Ferry or Cruise Ship do just that.)
Nearing the end of my summer and budget however, and having allotted only one afternoon and one night to explore Skagway, I was limited to walking the streets and trying to find the best deal on real Alaskan Tanzanite. (Turns out there is no such thing as real Alaskan Tanzanite. Most of the furs are from animals that never ever placed a live foot in Alaska either. In fact, I learned that most of the souvenirs are more well traveled than I am since I have never been to China and they have.)
It appears that few of those from the Cruise Ships had figured out that there was anything in Alaska worth seeing beyond three blocks from the dock. I drew this conclusion based on the wall-to-wall wall of people looking for Tanzanite, furs, and of course, waffle cones. Loose diamonds are also quite popular and like Tanzanite are not a product of Alaska. (Skagway having eight blocks of tourist shops, actually has a transit system to ferry people the extra five blocks. Not kidding.)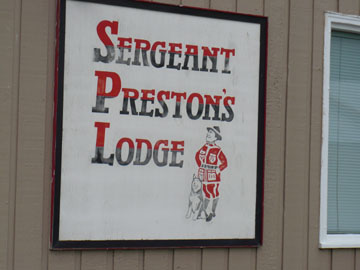 If I had the time and the budget, I would have taken the train ride north into the mountains, hiked the Chilkoot gold rush trail - at least a few miles, and visited some of the incredible wilderness that lies just beyond the wall of people. (I have heard lots of smart albeit cheap and/or lazy folks complain that Alaska is nothing but honky-tonk, souvenir shops, and tourist traps since that is all they saw when visiting. Of course the really dumb folk -- and there are no shortage of them -- will recommend Skagway as a taste of what Alaska must have been like during the gold rush. Those same folk buy the same type of Tanzanite that the gold rush stampeders must have worn., and seem to forget that all the modern hotels have heat and indoor plumbing. They also fail to observe that on their cruise last year to the Caribbean, they saw the same stores, just with people dressed slightly more Caribbean-like. Want some Tanzanite Mon?
No, the only thing that the trip to Skagway had in common with the gold rush (for most) was that it was a bit of a bust. At least I got to stay at the Sergeant Preston in. I heard from a reliable source that when Sergeant Preston of the Canadian Mounted Police visited Skagway to buy his Tanzanite and to experience "real Alaska," he stayed there...
(Worth noting is that 15 miles from Skagway is the town of Haines which I visited last year and which really does represent a typical small Alaskan Town.)