Travel Log Aboard the Mighty Sea Spirit - 2008
(Mark and Max)
July 19, 2008 Juneau
Max and Mark arrived ready to head out to sea. We began their odyssey by experiencing all that Auke Bay has to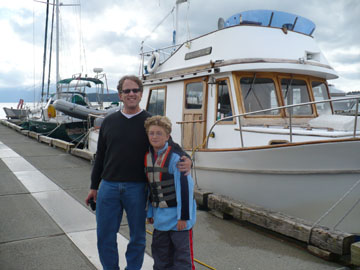 offer. Fifteen minutes later we headed down to the boat where they were to begin their training as swabby crew. I welcomed them to the world of boating in Alaska by showing them that very well established training film "Captain Ron." Max took to fishing immediately. Five minutes later we were all on board and enjoying shipboard life.
The only thing worse than a crew catching crabs is a crew buying crabs but alas my crabby crew bought crabs and we had quite the feast for dinner. Not knowing when the next meal would be (although suspecting that it would be breakfast) we savored the fruit of the sea and pondered our upcoming adventure, to begin in just a few hours.
Exhausted we went to bed at the crack of dusk. (Which here is pretty darn late.)
Just after dawn, at 3:30, I heard breathing in the salon. Sensing mutiny afoot, I crawled out of my toasty cold bunk to find young Max awaiting the beginning of day one at sea. It is now just after 5 as I write this. My crew has gotten restless so, I must sign off and head out. The next posting will be in a few days when we get somewhere where I can get internet.
July 20, 2008 (Taku Bay -- South of Juneau. Distance Traveled: 36 Miles)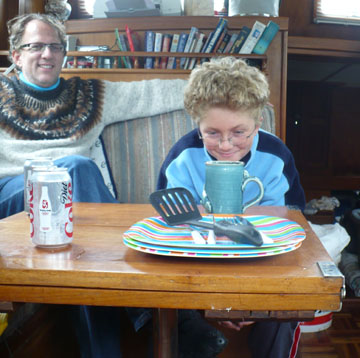 With fresh crew and moldy captain, we fired up the engine and headed out onto a calm sea. Our destination was Taku Bay (which I had visited earlier on my way North.) Max and Mark both seemed to take to cruising quickly. Max found himself a spot in the salon and the last I saw of him, he was buried several levels deep playing a portable video game that he had brought. Mark assisted with operating the vessel, often spelling me while I went about checking gear on board. The trip behind Douglas Island was uneventful but was also void of any exciting wildlife. We were waked by a large Alaskan Ferry and we did get to see at least one seal. As we entered Stephens Passage, the seas (although still small) picked up a bit and we encountered a favorable current. We did get to see a few whales in the distance. I somehow felt vindicated in my claims that wildlife was everywhere.
Our day ended soundly tied to the dock in Taku Bay. As the day ended for several of the local commercial fisherman, Taku got a bit crowded. (I always enjoy watching the commercial fisherman go through their preparations for the next day's work.)
Max and I both fished and quite proudly we were able to keep up with the best efforts of all of the locals. Salmon were jumping everywhere. We cast and we reeled and then we cast again. Just like the locals, we caught NOTHING. Not a damned fish. Not even an ugly one for all our efforts. I guess that is why they don't call fishing, "catching." Frankly, I have always thought golf was the domain of people with too much time and too little muscle mass. (Golf is watching grass grow while strolling atop it and pushing little balls across it.) Still, in the great competition for the bottom of the bucket sport, fishing requires nothing more than a beer gut and athe kind of patience that can only come with a partial lobotomy. When I was fishing, I found myself wishing that I could be golfing instead.
June 21, 2008 Taku Again
We awoke today, enthusiastic about our trip to Tracy Arm. Unfortunately, enthusiasm does not control the weather (or, as we learned yesterday, the fish.) We fired up the engine and headed out into seas that seemed to grow in bumpiness within just a few miles. The weather report was ambiguous (15 knots from the South and 3 foot seas.) Within a few miles (by Limesone inlet), we decided something just did not feel right so we turned North and returned to lovely Taku Bay. This turned out to be an excellent choice. Within hours a Fish and Game boat arrived and confirmed that the seas were unpleasant and were possibly topping four feet in Stephens Passage. Swell started rolling into the harbor making our position at the dock uncomfortable. The winds started to blow, whipping up the water in the bay. In my mind, uncomfortable at a dock is always better than unsafe in an exposed anchorage (Tracy Arm cove).
We relaxed and used our day to continue attempting to catch nothing. To increase our humiliation, this time, we added an attempt not to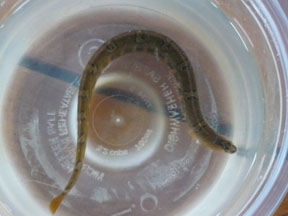 catch crabs to our effort, which again proved quite successful. In a dip trap, we did manage to catch a small eel (Frederick the eel) and a small dungie that was not a keeper.
If we had to live off the land, we would have ended our days as boater jerky. Just call me Mike Supertramp (reference to "Into the Wild.")
The day passed uneventfully and quite enjoyably. Those who arrived at the dock reconfirmed that our choice to return to the dock was the right one.
Although the sea state in Taku was uncomfortable and there was a constant cold rain, I dropped a box trap among several others at some distance from the dock. On chicken, we caught nothing. On hamburger, we caught nothing. Can you guess what we caught when we added hotdogs to the bait bag? That is right, nothing!!!! Throw in corn and the crabs could have had a complete picnic. If they were to make a show about our efforts (in competition with Discovery Channel's "the Deadliest Catch"), we would be called "The Dingiest Catch."
Late in the day, a boat arrived and we were given "smelly fish" for our trap. I put it in the trap and left it for the night. For dinner we had pasta. And so our day ended. No fish. No crabs. No worries.
July 22, 2008 Juneau Downtown Harbor (20 miles north of Taku)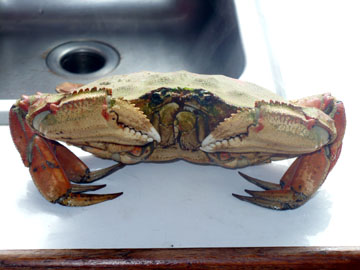 Same weather report as yesterday. Taku was flat calm at 5:30 AM when I went to retrieve the crab trap. Surprise of surprises, we had one nice sized and very legal dungeness crab.
(NOTE: My fishing license cost $145.00. I wonder what a "catching license" would have cost. It kind of bothers me to think that my one crab for the season cost more than a mid-range hooker who might have actually come with crabs of her own --- not that I would know but people have told me.)
Again, we fired up the engine and headed out to sea. The seas were bumpy like yesterday and I did find myself pondering the prospect that they might build like yesterday and the far worse prospect that we might be trapped at anchor for some number of days in Tracy Arm. (Mark and Max most certainly wanted to do other things in Alaska than go to Taku harbor for several days and then get trapped in Tracy Arm.) After discussing options, we made the decision to turn North and head up the Gastineau channel to the Juneau downtown harbor. With plenty of time left in the day, we found space at the Harris Basin in Juneau.
Harris basin is convenient to many boat necessity services so I will probably stay here until I decide what to do with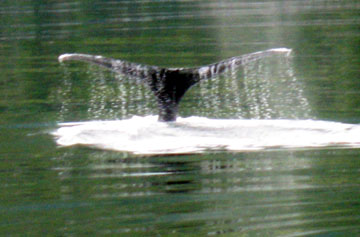 the boat for the winter. The boating season here typically goes until late August. It does seem that this season is ending quite early so I need to make some serious decisions. One option is to leave the boat somewhere in Juneau. This option, although convenient if do-able, seems like there might be unsolvable problems. The only yard that will store my boat in Juneau is up the Mendenhall river. More than one person has said that my boat draws too much to make the trip. The yard says that the trip can be done at high tide. A better option might be to head south and leave the boat in Wrangell where there is a travel lift and big yard and better winter weather. The problem with that option is that I will have to burn $250 worth of fuel, single-hand 150 miles and then next season will have to turn around and head north so I can get to glacier bay (my goal) at the season start. (Although I have a permit to Glacier this year, I have no crew for the trip and the weather has not been to my liking.)
As to Mark and Max, they are off visiting the Mendenhall Glacier and enjoying downtown Juneau. They are considering taking a commercial fast boat to Tracy Arm and maybe the Alaskan ferry to Sitka.
As to the crab, his goose is now cooked.
As to me, it has been a long and very enjoyable summer. I think that I need some rest before I finish my travels, put the boat away, and head home to Jennifer and Arianna who find myself missing terribly. (If and when the boat leaves the dock, there will be additional log postings.)