Travel Log Aboard the Mighty Sea Spirit - 2008
Alaska Cruising with Jennifer and Arianna
Between June 5 and June the 21st, I was a resident at the city float in Ketchikan, (with the exception of a brief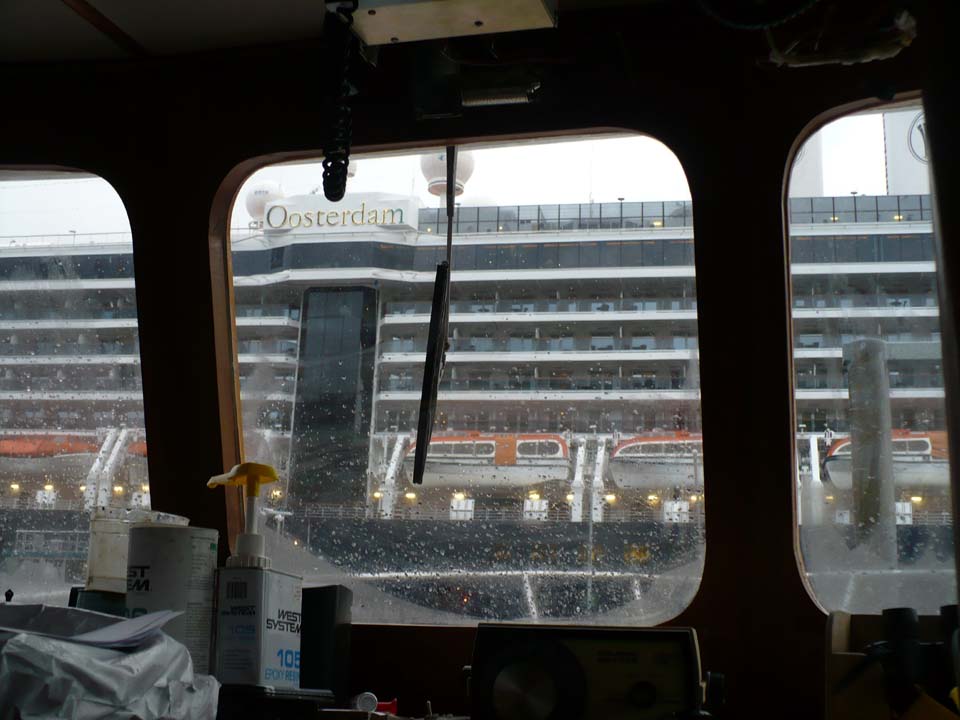 period during which I traveled to New York and St. Louis on Business.) Life in Ketchikan is enjoyably redundant. It is a slow moving town, populated by good, hard working people. It is one of the few places up here with both a Wal-mart and a McDonalds. (I don't miss either when they are not available.) The city float looks out on one of the four cruise ship docks. Each evening I could look out and see the natural beauty of the Tongass Narrows but each morning, I arose to be overwhelmed by the claustrophobic proximity of a giant floating hotel, filled with people looking for buffets and good deals. Every day as many as five cruise ships arrive and every afternoon they leave, thus restoring my view. The population of Ketchikan increases between 5000 and 9000 each day and the shop owners near the dock get wealthy as the town, removed by just a few blocks suffers apparent great economic hardship. It is a contradiction that one cannot help but notice and be saddened by. Near the dock is a store called the Tongass Trading Post. For the tourists, it is a source of deeply discounted souvenirs. For the boaters it is comparable to West Marine. For the locals, it is Ace Hardware. For the adventurer, it offers all provisions to head out into the wilderness. Although all share the same space, few seem to connect or even notice the others. Wal-mart and the local (near empty) mall both run constant shuttles to bring the cruise ship passengers (and often me) off to their distant locations to save even more money on necessities and souvenirs.
I flew back into Ketchikan from New York on the 20th, arriving just three hours ahead of Jennifer and Arianna. I had the joy of sleeping in the Seattle Airport between flights. (There are some interesting things going on at three AM at SEATAC.)
We spent the 20th of June provisioning the Mighty Sea Spirit, rented a car and drove about the island, beyond the general reach of tourists and tourism.
June 21, 2008 Ketchikan to Meyer's Chuck (34.5 miles)
The trip to Meyer's Chuck started out easy as we went North up the Tongass Narrows to the somewhat open water of the Clarence Strait. (Personally, I would expect the Clarence Strait to be kind of nerdy. Who would name their kid Clarence and for god sakes, it is hard to imagine any Clarence becoming a northwest adventurer worthy of having a strait named after him.) Upon entering the non-nerdy waters of the Clarence Strait, we were subjected to building seas with short chop, hitting us broadside leading to an uncomfortable roll. Still the trip was only 34 miles and even with an annoying last ten or so miles, we were not much the worse for wear.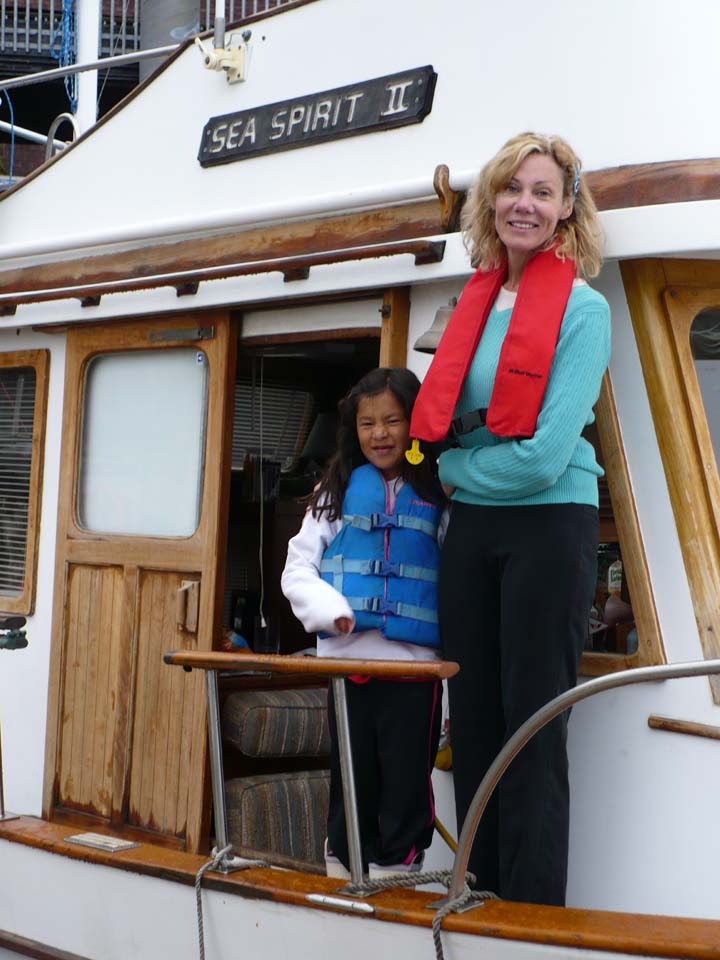 Meyer's Chuck is a beautiful but sleepy little community of houses on a very well protected little bay. A short hike leads to a rocky beach facing out on the not too nerdy Clarence sound.
The (free) government dock rapidly filled with cruising vessels following the same route north that we are. Docked directly in front of us were Brad and Darlene (from San Diego) on El Bucanero. They were cruising on a boat of comparable dimensions to (but significantly newer than) ours and had also gotten their start in Anacortes.
When I was in Meyer's Chuck in 2001, it was a hotbed of social controversy as we learned from the somewhat gossipy postmaster. They were also having a problem with a rogue grizzly during the colder months. Alas, we were not to learn how issues resolved though. On this trip, none of the locals seemed interested in talking to the cruisers. For that matter, the one with whom I spoke pretty much acknowledged that the cruisers wandering all over their little slice of Eden was at the least a very big annoyance. (Such milk of human kindness should be rewarded with a visit from their rogue grizzly should he still exist and still be a rogue.)
June 22, 2008 Meyer's Chuck to Frosty Bay 56 03.8N 131 58.3W (25 Miles)
We reentered Clarence Strait, took a right turn into the wide open expanse of Ernest Sound, and then traveled North across Ernest Sound before entering the Seward Passage. Briefly, we found ourselves accompanied by some slow-moving dolphin who quickly lost interest in our slow-moving little vessel. Frosty Bay is a small but quite pretty hole-in-the-wall off of the Seward Passage. (For the record, I was quite disappointed to go from a nerdy named strait to another nerdy named strait but was pleased to finally enter a passage with a good manly name. "Seward", now there is a good name for an adventurer. Don't even get me started on the name Frosty Bay. That is the perfect name for an anchorage. I felt twice as manly just by dropping an anchor there Although merely a stopping point on our trip north, we had hoped to see some wildlife of note but alas, all we saw were more of those damn bald eagles. They are everywhere. (I really think that if there is a Hair Club For Men, there should be a Feather Club for Bald Eagles." It would solve so many problems.)
June 23, 2008 Frosty Bay to Wrangell (40 Miles)
Today did not start well. The windlass failed. (Note to self, sue Dagley for giving me the windlass and for the ensuing injuries.) Without really giving it much thought, I hauled the remaining chain and anchor by hand and ended up writhing about with a rather severe back spasm. How could something like this happen in such a manly place (while performing such a manly act) as "Frosty Bay"? I got the anchor up, popped an Ibuprofen and we were under way.
Our plan was to go to Anan Bear Observatory. (I had already stuffed Arianna's pockets full of jam.) Without a windlass, Anan was no longer a possibility. Others have since told me that since the Salmon are not up the river, we probably would not have seen bears. Now, I am just stuck with a kid with pockets full of jam.
On the good side, the trip to Wrangell was spectacular. We made our way up the very narrow Blake Channel, past Berg Bay, through "The Narrows" and then into East Passage. We scoured the shore looking for Bear but saw none. We did see dolphin and there were more of those pesky bald eagles. Just south of Wrangell, we met the muddy outflow of the Stikine river which turned the water a murky gray.
June 24, 2008 Wrangell
Wrangell is a working city. No cruise ships come here and tourism is almost non-existent in Wrangell, but it is a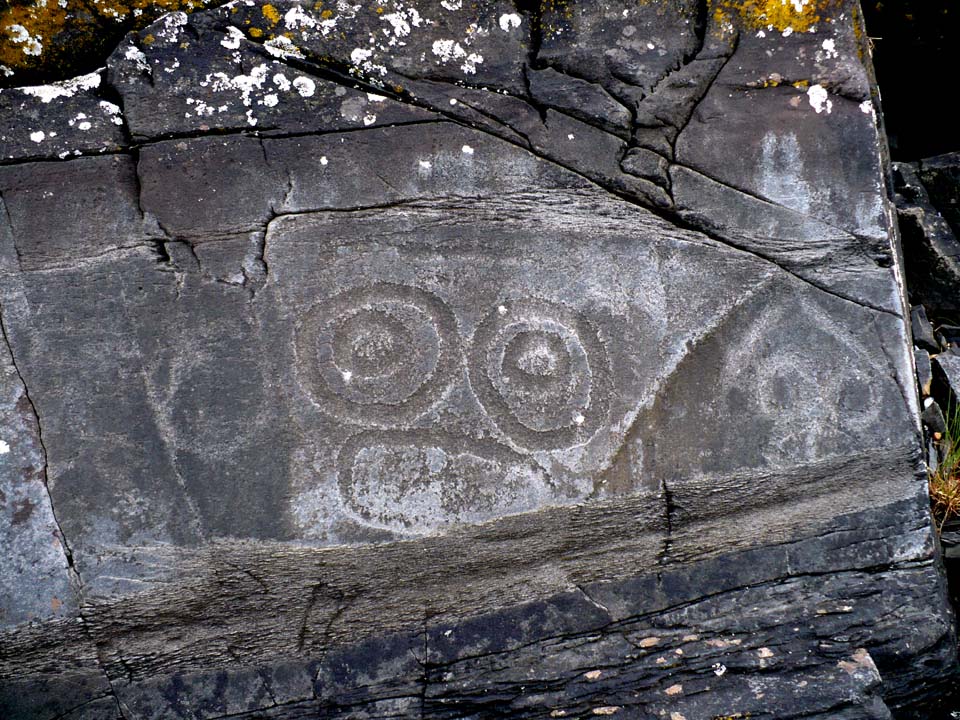 major stopping point for cruising boats. The docks are often packed two and tree boats deep with a mix of fishing and cruising vessels. Things were pretty light during our stay but the transient dock filled on our second night. No conversation goes for more than five minutes without hearing about how depressed the Wrangell economy is. I suspect that Wrangell is what Ketchikan would become if the cruise ships stopped coming. Still, it is a true Alaskan town right down to the IGA food store, the True Value Hardware Store, and the Napa Auto/Marine Parts store. (I put my name on the list of people intending to lay-up their vessel in Wrangell for the Winter although I hope to find a spot further North.) Alaska Air flies two planes per day into Wrangell making it a major destination for a small number of people. The walk along the water's edge leads to an endless number of spectacular views and terminates at Petroglyph beach. For the cruiser Wrangell is "real" Alaska. Besides provisioning and hiking, I debugged the problem with the windlass (a motor brush spring) and fixed it. My new friend Brad (on El Bucanero) had an electrical problem that I brainstormed with him and Arianna met her new best friends with whom she become completely inseparable. (Well, inseparable, until their parents obtained a restraining order.)
June 25, 2008 Wrangell to Petersburg via the Wrangell Narrows 56 48.56N 132 57.9W (41 Miles)
The Wrangell narrows are a bottleneck that separates upper and lower Southeast Alaska. The narrows (which are truly narrow) are used by commercial traffic, small cruise ships, the Alaska Ferry, and of course, all the cruisers. Current can run in the narrows in excess of four knots so timing one's passage is critical.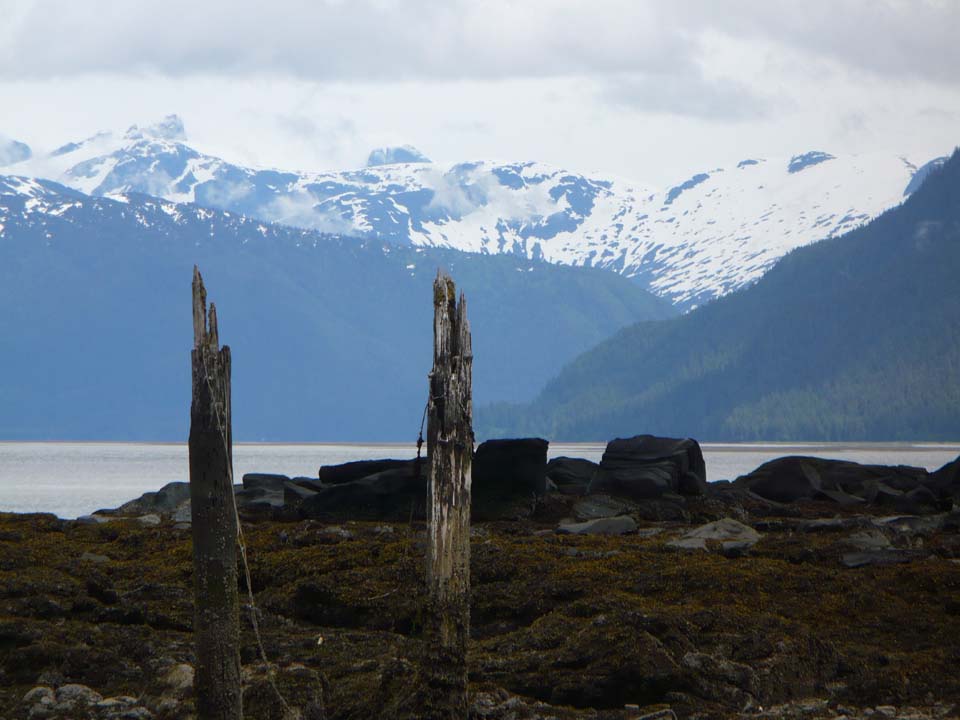 We left Wrangell Early and headed east into the Sumner Passage. Our route took us between Vank and Sokolov islands, then past "Two Tree Island." (I could not figure how they managed to name two tree island but there were only two trees on it.) We pickup a two knot current and entered the narrows while the current was still flowing south and at points was 4 knots. Given my lack of local knowledge, I chose to anchor at December Pt. Bight and wait for the current slow. (We stayed at Anchor for an hour.)
The trip up the narrows was pretty easy with current against us never topping two knots. Along shore we saw a deer and literally hundreds of eagles.
As we neared Petersburg, we were lucky enough to be passed by Brad and Darlene (El Bucanero) who snapped a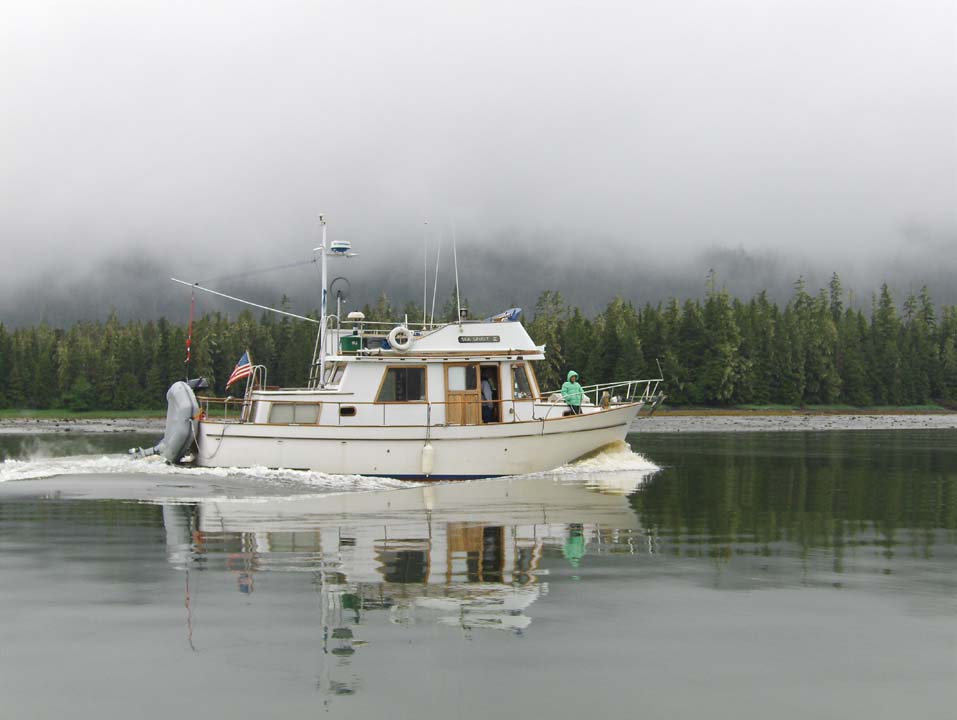 truly incredibly picture of the "Mighty Sea Spirit" as Arianna was standing hypothermia watch. (We could buy a thermometer for two dollars but thought it more fun just to leave her on deck.)
June 26, 2008 Petersburg
Petersburg is the opposite of Wrangell. There is no tourism yet the town looks like it was intended for tourists. There is quite the Norwegian influence in the buildings and perhaps stereotypically in the people too. If there is a social undercurrent, it is one tied to community pride and work ethic. Flower gardens abound and the homes, while mostly small, are well kept. Fishing boats come and go. The dock is full of activity and yet no one seems to talk much about a faltering economy.
Hard to imagine that Wrangell and Petersburg are but a few miles spaced as the Eagle flies.
June 27-28, 2008 Hobart Bay 57 24.75N 133 26.4 W (50 miles from Petersburg)
Today was the day that reminds you why you do all this stuff. No sooner had we left the Wrangell Narrows when we were greeted by two Humpback whales less than 200 feet from the port side of the boat. As we made our way up the Frederick Sound and passed Cape Fanshaw, wildlife was everywhere. Off in the distance, we had our first view of icebergs. We turned North on the Stephens Passage and then made a short detour into Fanshaw Bay and up the narrow Cleveland Passage.
For a while, it seemed that you could not swing a Bald Eagle without hitting a whale. Jennifer counted 10 whales on the voyage. (Technically, I only hit seven whales by swinging Bald Eagles. Excuse the exaggeration.)
Our destination was a hole in the side of a tiny island that I had visited in 2001 to escape small craft warnings. This proved quite fortuitous on this trip also. I awoke on the 28th and headed out into the Stephens Passage only to quickly discover that the ocean was no fun. Broadside swells and short chop for less than an hour convinced me that Hobart Bay was a two day stop. We returned to the cozy little public float and enjoyed a relaxing day with a few other boaters who were smart enough not to leave the dock.
I am starting to note the rumblings of mutiny from our littlest crew member. It began when Arianna very seriously inquired of me why I got to be the Captain. She then started saying that she was the Captain. Given her Guatemalan manufacture, I can only note that she is quite the little Mutinous Perro. She is small but she is wiry and wields a filet knife with the best of them.
June 29th Tracy Arm Anchorage via Tracy Arm 57 46.6N 133 38.2 W (60 Miles)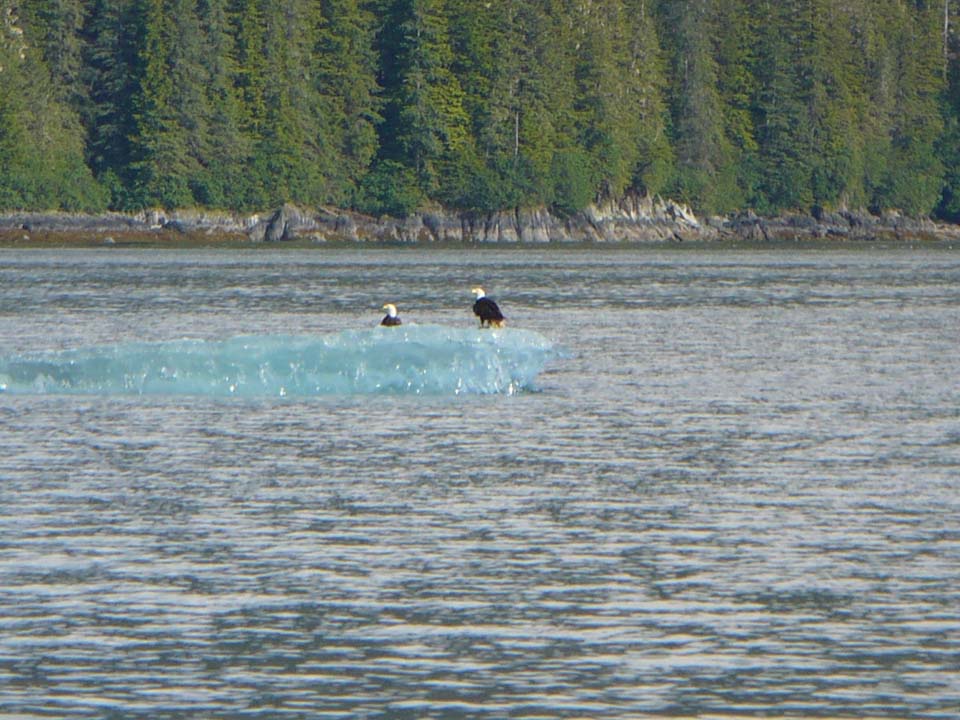 The Stephens Passage was glass calm as I headed North to Tracy Arm. The day was spectacularly clear and sunny.
Along the way, I was treated to the view of many whales, all seemingly put there just to entertain me. We passed to the North of Harbor Island and then were swept across the Tracy Arm bar by the waters rushing with the rising tide.
If there is one place that stands out as a MUST SEE in Alaska, it is Tracy Arm. It is a narrow fjord with towering walls punctuated by rushing waterfalls. About 20 miles into the fjord, it splits and terminates at two tidewater glaciers (North and South Sawyer Glaciers.)
Before entering the fjord, I noticed an Iceberg to Port and Weinbergs and Goldbergs to starboard. (There was a cruise ship passing us and no cruise ship can leave port without at least one Weinberg and two Goldbergs aboard.)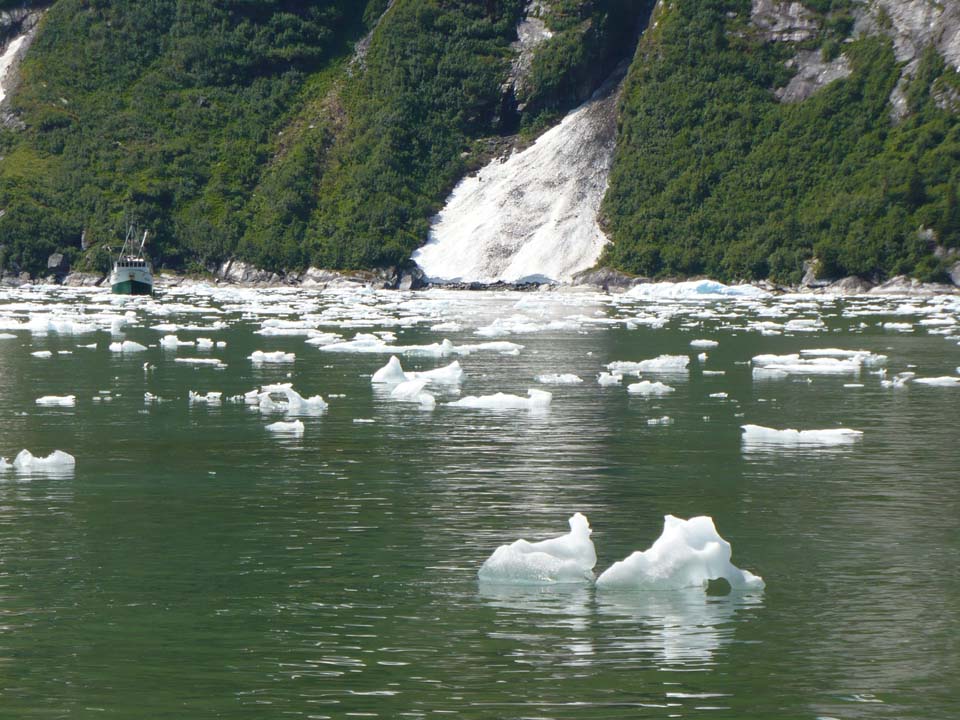 A few miles in, we were treated to our first view on this trip of Killer Whales. (On the way out, we followed the same pod for a while.) Half way up the fjord, I maneuvered the Sea Spirit into the misty outflow of a raging waterfall. As we got about a mile from the split in the fjord, we encountered pack ice. Small icebergs are called bergies. (I suppose that you could call small Goldbergs and Weinbergs bergies but I suspect that finding a small Goldberg or Weinberg on a cruise ship would be more difficult than finding a sunny day in Ketchikan.)
I wove the Mighty Sea Spirit among the maze of bergies but soon the bergies were replaced by larger deep ice chunks that could easily have destroyed our propeller. Without seeing either of the glaciers, we were forced to retreat back down the fjord. Before leaving, we took aboard a 50 pound chunk of ice to cool our drinks for the next few days.
We anchored for the night in Tracy Arm Cove. As if to make the day complete, we got our first site of a Alaskan Brown Bear (Grizzly) strolling down the beach.
June 30 Taku Harbor
We continued our run up the Stephens Passage toward Juneau. We chose Taku Bay as it was a convenient stopping point with a dock and some very interesting ruins of a cannery. We wandered on shore for a while and then upon returning to the boat, we were treated to yet another of those great Alaskan once in a lifetime sites.
A young brown bear came lumbering down the same path that we had walked earlier. What a truly spectacular site. This guy was close enough that there was little need for telephoto lenses or binoculars.
Of course, we lost interest in the bear when the humpback whale surfaced right next to the boat.
How often does one have to choose, watch the Grizzly or watch the whale? These are the kinds of dilemmas that make cruising so darn difficult.
July 1, 2008 Taku Bay to Auke Bay (Juneau) with a detour down the Taku Inlet (44 miles)
Our goal for the day was to get to the dock in Auke Bay. Some people from Fish and Game had told us that taking the boat up the Taku Inlet to get a view of the Taku Glacier (not Taku Bay) was a "must see." The almost two hour detour proved to be more of a "must not see." As we moved up the inlet, the water became gray-white from the glacial outflow many miles further upstream. The odd hue of the water coupled with stiffening winds, a darkening sky and a bit of chop made the trip kind of surreal. Although it was an easy run, the view at the end (still some 8 miles from the glacier) was not worth the fuel expended.
To add injury to insult, the engine shut down on the return trip out of the Taku Inlet. (This had also happened a few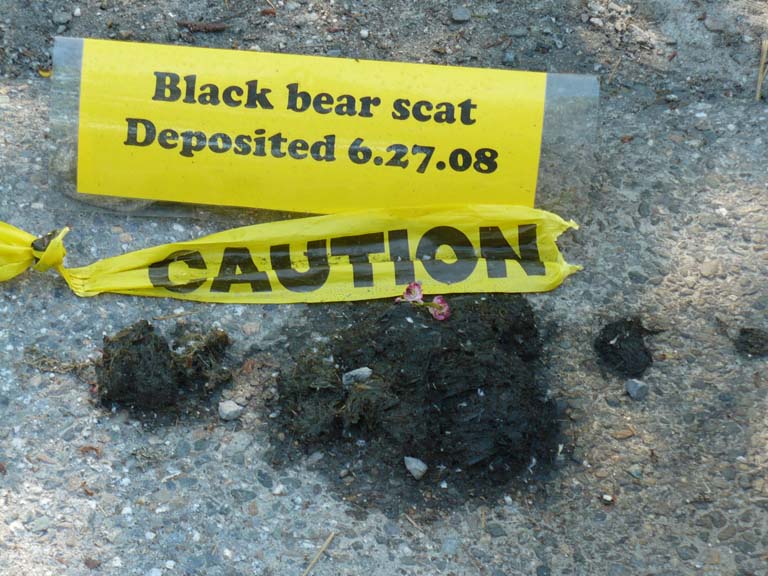 days earlier causing me to change the main filter.) It has becoming increasingly clear that there is some problem with either the port fuel or the port fuel system. With one engine, this can become very annoying. We switched filters, switched tanks, bled the fuel system (with leftover diesel leeches) and got the boat moving again. Then in front of the Gastineau channel (10 miles from Juneau) we noted that the engine was reading low oil pressure. This prompted us to shut the engine down and drift while trying to debug the problem. We ultimately concluded that the problem was an anomalous low voltage to the gauges (Jennifer remembered that the temp gauge was also strangely low) We fired up the engine and off we went. (The next few hours were painfully stressful as we waited for either a fuel system failure or an engine failure. Neither occurred. Yeah!)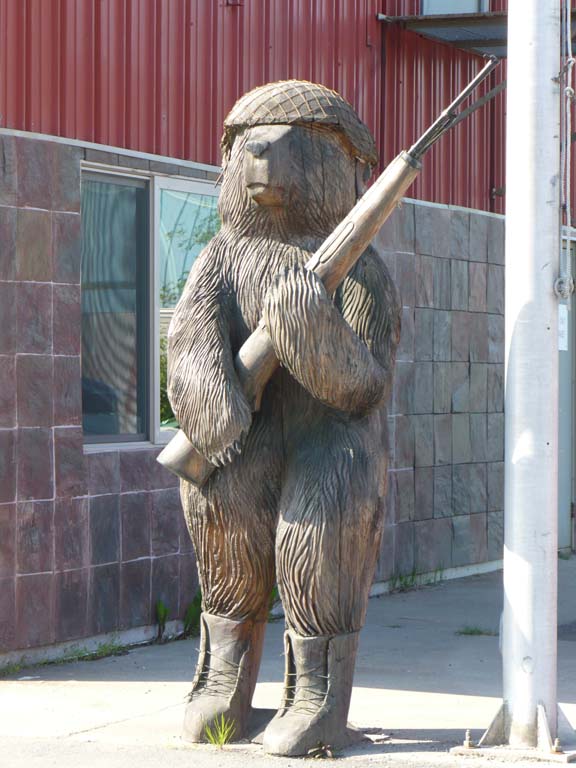 Auke Bay is in a suburb of Juneau. The three hour boat ride around Douglas Island to reach Auke Bay -- which for us was punctuated by seeing a naked guy on the shoreline of Douglas Island -- can be covered by car in Just 15 minutes. I cannot describe the pleasure of getting to the docks, having electricity, unlimited hot water on demand, and no fear of being broken down and adrift at least for a few days.
While in Juneau we rented a car and visited all the great sites. OK, we went to Mendenhall glacier -- which was pretty much blocked by the view of buses and tourists. We drove past the four cruise ships downtown and noted that downtown Juneau looks just like downtown Ketchikan. Lots of jewelry stores, souvenir shops, and large stuffed bears and moose(s). The highlight of the trip to Juneau may have been our stop at McDonalds for soft ice cream.
Since apparently no one in Juneau ever heard of boats having fuel problems, I was forced to build my own fuel polishing system and polish my port fuel (which I will now slowly add to the starboard tank so I can get into the tank to see if there is a problem.) I am thinking of opening up my own fuel polishing business. Apparently as cities go, Juneau is sadly lacking in many types of boating necessities.
July 4, 2008 Funter Bay 58 15.3N 134 53.8W 26 Miles from Auke Bay
Today we left Auke Bay on what I hope will be a five day trip to Sitka. Our first stop was Funter Bay. I have now been without DirecTV for too long so I have been forced to go outside. We are sharing our dock with a couple who come right out of the 1960s San Francisco culture and a marine biologist for the state. I learned that Funter Bay was the site of a WWII internment camp for the Alaskan Japanese and for the Native Alaskans. The beach and woods are littered with the remnants of the camp and the canning industry that predated the camp. Sadly, there is a cemetery for the internment camp in the woods.
July 5-6 A Tenekee Springs (36 Miles from Funter Bay)
Tenekee Springs is 9 miles up the Tenekee Inlet off of the Chatham Strait on Chichagof Island. It is a quaint little community known for having no cars (bikes and ATVs only), a single road, and public (although one gender at a time) hot spring baths. We stayed here two days due to bad weather in the Chatham Strait. During our stay we enjoyed the quaint local bakery and the quaint early 1900's general store with not so quaint 2008 prices. Did I mention that the place is quaint? It is the kind of place where kids can run free and are safe, well except for the occasional hungry grizzly but not to worry, there are lots of kids and at least during the summer, lots of salmon.
July 7 Jennifer's Birthday -- Tenekee to Sitka (90 exhausting miles)
I cannot tell you what possessed me to travel 90 miles in one day. The trip entailed leaving the Tenekee inlet and traveling south (on the now calm) Chatham Strait, before turning right into the Peril Strait (oooh scary name) and heading 36 miles to the Sergius Narrows.
(NOTE: The Sergius Narrows are the fastest narrows in Southeast. They are pretty darn narrow too. A single ferry will hold up traffic in both directions. Although only 2 tenths of a mile long, they create a bottleneck for almost all commercial, ferry, and cruising traffic between Sitka and the inside waters. Yesterday, the current in the narrows peaked at almost 8 knots. We waited for near slack before making the crossing. The current was still two knots against us.)
From the Sergius Narrows, it is 26 more miles to Sitka through some beautiful yet also narrow channels. (The Neva and Olga Straits.)
Having left a little after daybreak (3:45 AM), we arrived at our slip in the Richard I Ellison Senior Harbor at after 6:45 pm, having cruised for some 15 hours.
Along the way, the freshwater pump failed (no running water on the boat) and we had yet another fuel filter clog causing us to drift for a few scary minutes in the ever so narrow Olga Strait, mere hour from our destination. (How do you spell exhausted?)
Still, we managed to wander out in the pouring rain to the local grocery where we bought a broiled chicken, some potato salad, eclairs and a box of wine so we could celebrate Jennifer's Birthday in Style. (As she put it, she was the luckiest girl in the Trailer Park. Even in the trailer park, they have running water...)
More on Sitka in Part III