Travel Log Aboard the Mighty Sea Spirit - 2008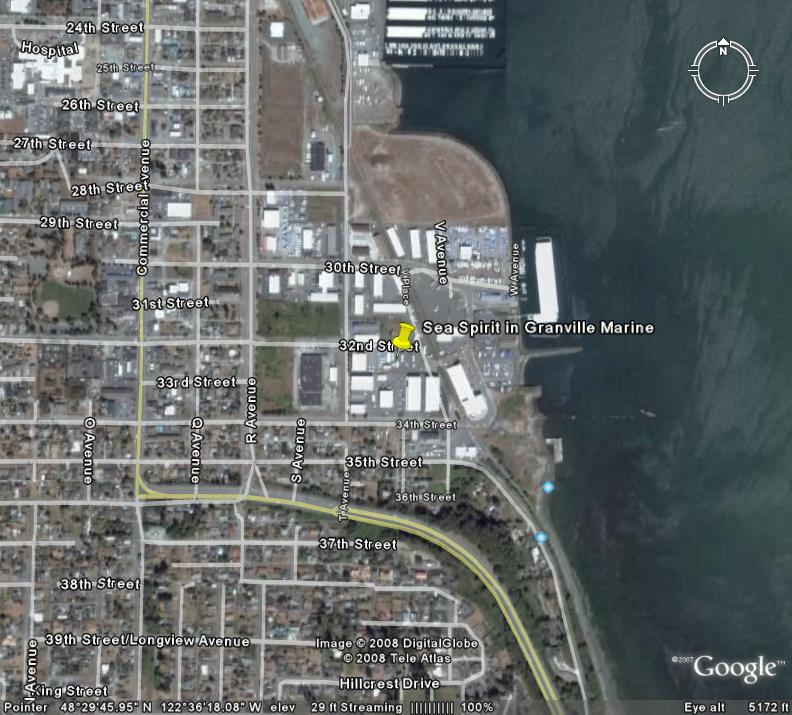 May 21, 2008
Here I am at the start of yet another adventure, not knowing what the future holds until it becomes the past. I find myself sitting aboard The Mighty Sea Spirit, on the hard at Granville Marine in Anacortes, Washington. This may be the last time, I don't worry about sinking. She is a sturdy craft. Well, she was a sturdy craft, but hell, she rolled after the assembly line in Taiwan in 1975. I am remembering that old adage that you should not trust anything over thirty years old... The boat is over thirty. The hull that is intended to keep our feet dry is over 30. The engine is over thirty. The captain and crew are over thirty. I think that some of the discount charts that I am using are over thirty years old. Yet, do I feel a sense of doom? I am over 30, why should I? Besides, I am just not that smart...
The plan is simple. We launch tomorrow, and if the Sea Spirit does not sink immediately, the adventure really begins. Rob Keller (good friend and fellow boater) arrives in two days. and then on the 25th, we start our voyage North to Alaska. (It is North, right?) Rob has a two week window so we plan to move the boat the 640 nautical miles to Ketchikan in that window. There I will wait for Jennifer and Arianna so that the family part of the adventure may begin. Beyond that, a few friends have decided to join the fest. These are the few friends I had left after my other friends joined the last adventure. (I will keep you posted on the "friends left" count as the trip unfolds.)
May 22, 2008
Bad omen today. The boat launched. It did not sink. The engine started on the first try. Got fuel at a reasonable price. I made it to the dock without incident. I even ran into two friends upon stepping off the boat at the dock.
Some might call my solo landing at the dock at Cap Sante Boat Haven (Anacortes) impressive. Of course, with no wind, a wide slip, and a bow thruster, I am fairly convinced that Stevie Wonder (perhaps with some help from Steven Hawkins) could have done as well. Probably better.
Anyway, if I have not used up all of my luck, then we are good to go.
NOTE: While waiting for Rob Keller to join as crew, I used my time in Anacortes for last minute preparations. I added a new Honda EU2000i gas generator to the boat (to run a space heater for Jennifer) and a second larger 15HP Honda outboard. (That is going to be the get-home engine should the go-north engine, go south on me...)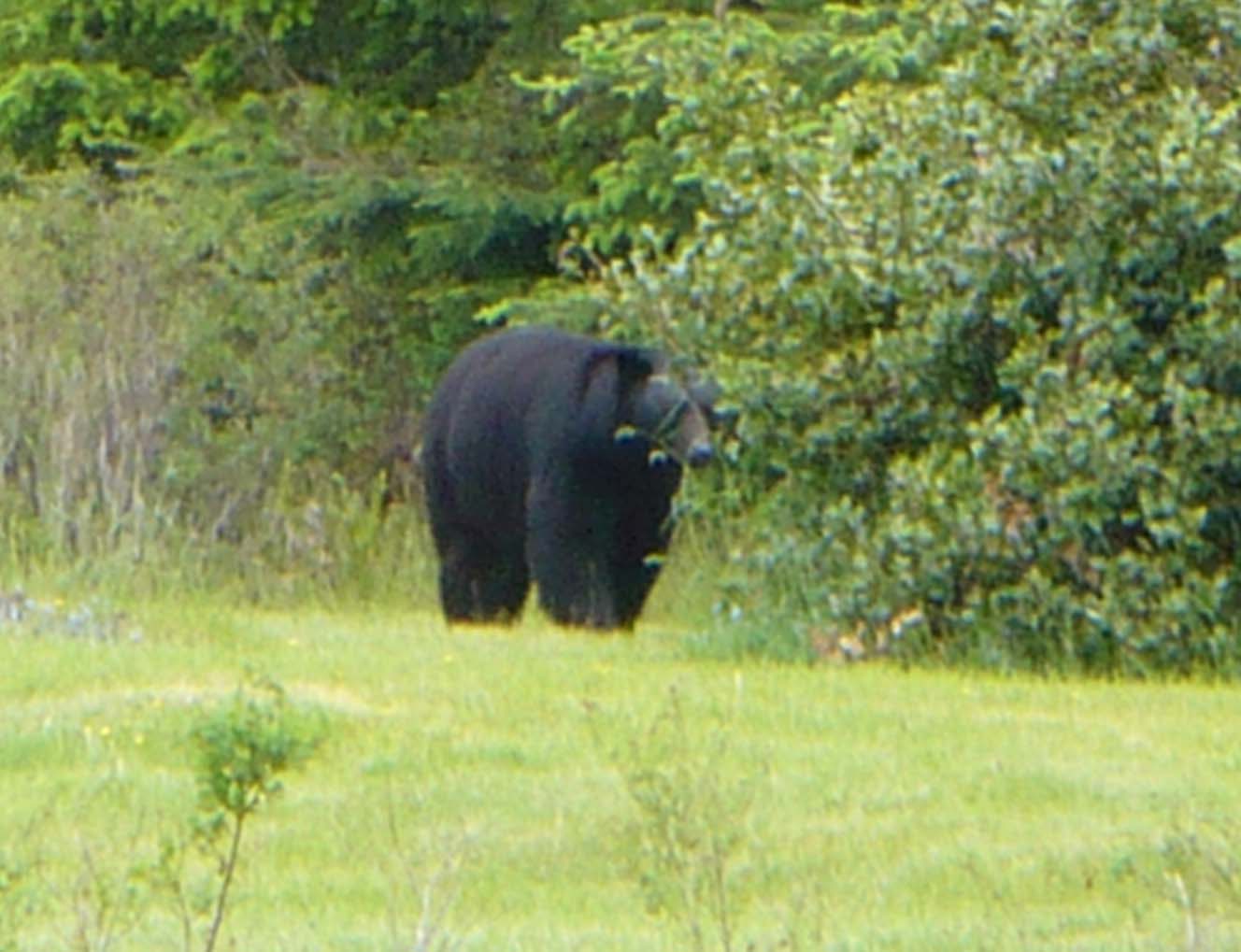 May 25, 2008 (Anacortes to Ruxton Island -- 49 04.98N 123 42.87N, Distance Traveled: 70 miles)
Today we decided to run a long day so we would have more time to spend North of Vancouver island. Our run took us from Anacortes, across the Rosario strait, through Thatcher Pass, through the San Juan Islands, across Boundary Pass and into the Gulf Islands of Canada.
We cleared Canadian Customs at very beautiful Bedwell Harbour. (Canadians like OUs in their wourds). Bedwell is moste definitely on my list of places to return to when I return south.
At Bedwell, a couple pulled up to the customs dock in a Catalina Sailboat. The woman came over to us and without provocation, asked me if I planned on restoring my vessel. Did I mention that she had gotten off of a sailboat and it was a Catalina? A demon sailstress in a floating Chevrolet doublewide had the gall to ask me if I was intending to restore my vessel of character. What a ... Catalina owner. May the wind always be on her bow. So there.
Our goal was Nanaimo on Vancouver Island but we missed the slack tide required to transit the Dodd Narrows.
Narrows and rapids are among the great joys of cruising up here. Go through at the wrong time and you risk your life and your boat. Some of the rapids can flow at over 12 knots and become quite wild. The rule of thumb is to never transit anything with a flow greater than half the max vessel speed although truly conservative boaters will always wait for the slack. If you miss the slack, you wait until the next one. After all, this is cruising, not rushing.
For us, missing the slack proved fortuitous as we found a beautiful and protected anchorage at Ruxton Island. It was a summer warm day... by Canadian standards. We even watched some locals swimming in the 55 degree water (not Celcius) at the anchorage. Hypothermia apparently does not set in as quickly as you might expect at that temperature. Stupidity sets in far more quickly.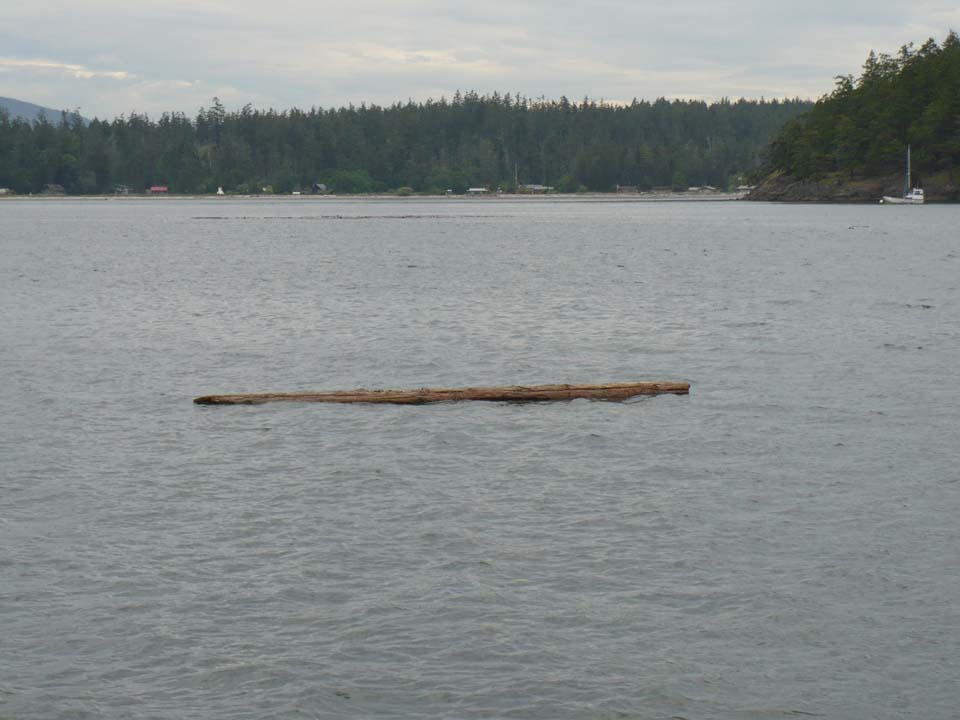 Based on the number of children who went in when compared with the number who climbed out several minutes later, I estimate average survival time at just over five minutes.
We were treated to the sound of some Canadian geese. How novel , a Canadian goose in Canada. That goose must have thought he was real pate', honking away endless as he was. Probably didn't realize that up here he was about as rare as blondes in Los Angeles. (Notice that I didn't say smart blondes or real blondes.) Personally after listening to that stupid thing honk like he was stuck in gridlock, I want to see his goose Canucked. (I have been trying to figure how to work in that pun.)
May 26, 2008 (Ruxton Island to Campbell River -- Distance Traveled: 85 miles)
Today was just too long. We ran the Dodd Narrows at 7 AM an hour before the slack, but with a favorable current of 2-3 knots, transited Nainamo Bay, ran into the Georgia Strait, went north past Comox and then made our way against some pretty gnarly current to Campbell River, arriving at around 7pm. NO MORE DAYS THAT LONG. Tomorrow we need to be at the Seymour Narrows at 6 AM.
May 27, 2008 (Campbell River to Port Neville -- 50 29.6N 126 05.3W Distance 50 Miles)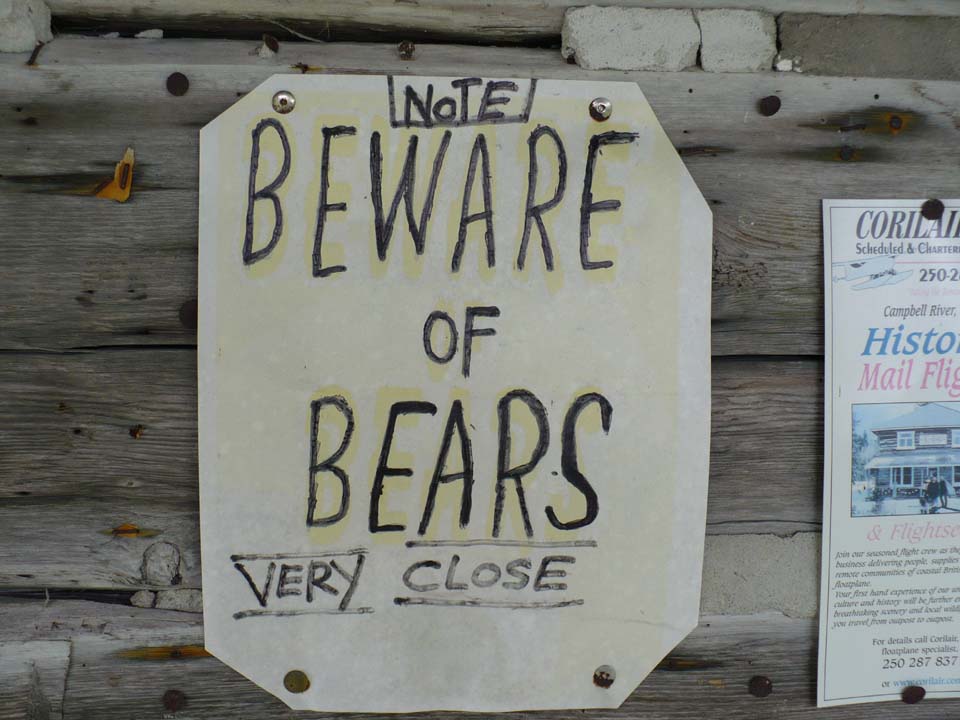 We awoke at 4:30 to head north to the Seymour Narrows. The Seymour narrows are perhaps the fastest and most dangerous narrows on our route. Done properly, they are quite safe. Still, several have died attempting to transit the Seymour Narrows at the wrong tide. Also, the narrows used to famous for a submerged rock that brought an end to many a foolish boater until it was exploded in the largest peacetime non-nuclear explosion (or so the Canadians claim.)
We left the dock at first light, in zero visibility fog and navigated by radar up the Discovery Pasage to the Seymour Narrows and transited without incident although we did meet a large log barge and tug going south. Pretty impressive. At the Johnstone Strait, we had to hang a right turn. From there, we followed the signs to the Port Neville Exit.
Arrived at Port Neville around lunch time. Port Neville is one of the prettier stops on the route. It is kind of like a government dock in someone's backyard. Decided to take a walk before lunch. Well, we decided to take a walk until we met a black bear who might have decided to have us for lunch. I am proud to say that we hid in the boat exhibiting just the right amount of cowardice. (Remember, it is not if you can outrun the bear. It is if you can outrun at least one crew member. Rob is in pretty good shape, so I didn't want to risk it.) We learned later that the bear is a local and often wanders around the area. I guess, he could not read the no-bears or peddlers sign.
May 28, 2008 (Port Neville to Port McNeil -- 50 35.47N 127 05.4W Distance 40 Miles/ Total Distance: 245 Miles)
We are finally into the real beauty, before the real beauty of the trip. Our ride took us further up the Johnstone Strait, passed Alert Bay and then on to Port McNeil.
Port McNeil can best be described as a sleeply little town on the North end of Vancover island. They lay claim to having the world's largest Burl (not Milton) which we did visit (see photographs link) More important, they have fuel, provisions, parts, and it is really the jumping off point to the open wilderness that exists between the north end of Vancouver island and Prince Rupert, about 250 miles north.
We filled our cupboards, bought a full tank of diesel, and filled our gas tanks. We had a meal of local seafood at one of the several restaurants in town. We even bought a few odd spares parts that I needed for the ride north. (By the way, they sell fuel up here by the liter, so unless you can do math, you have no idea just how much you are really getting ripped off. )
A walk around town is lots of fun. Beyond the biggest burl, the town has real local flavor and people are just plain old nice. It is odd to see a marine supply store that also sells logging supplies as if the two go together. Boating is to logging as ... Both boats and chainsaws have engines and that may be where the similarity ends.
Tomorrow, we cross into the wilderness and leave the comfortable support offered by having civilization close at hand.
Again, I remind myself that I am doing this in a boat that is older than most of the woman I ever dated -- although I do note that the best woman I dated for the most part were older than my boat and far more attractive than it also. I find myself asking why it is that if I would never take a 1975 Chevy and drive as far as I can get from the nearest tow truck, would I take a 1975 boat and head off into the wilderness. I also note that this boat has only one engine. To paraphrase my pilot friend Dagley on the subject of one engine planes; he feels that immediately upon leaving the runway he should declare an emergency since he is down to the last engine. Even with an untested 10 year old Honda hanging off the back, I can see a few flaws in my plans. Lets face it, I am city kid. To me the wilderness is anyplace where I am more than two blocks from a gas station and 5 blocks from a fresh bagel. There is the advantage that I will be hundreds of miles from a Starbucks.
May 29, 2008 (Port McNeil to Millbrook Anchorage in Smith Sound -- 51 19.6N 127 44.1W Distance 56 Miles / Total Distance 301 Miles)
Days like today are why one does a trip like this. Perfect weather and perfect seas.
My insurance requires that I return south of Latitude 51 by Septemer 15th. The reason is that
once one heads north of Vancouver island, and crosses latitude 51, there is an open water crossing with direct exposure to the Pacific Ocean. We were lucky today, the sea was flat calm. Visibility was excellent and scenery was spectacular. We were treated to the sight of bald eagles and dolphins. No whales yet but we have hope.
Our crossing took us across the Queen Charlotte Sound, along the rock littered mainland northern shore by Allison Harbour and Miles Inlet and then around the ever so dangerous Cape Caution, behind Egg Island and into Smith Sound. We anchored in the quiet and quite secluded Millbrook anchorage.
May 30, 2008 (Smith Sound to Shearwater 52 08.8N 128 05.3W, Distance Traveled 60 Miles / Total Distance 360 Miles)
Today was like a date with a homely prostitute. The ride was no fun but the ending was still happy and at the end of the day my wallet was a lot lighter.
Our goal for the day was the Indian Village of Bella Bella. We came out of Smith Sound and headed North, once again exposed to the open Pacific which thankfully remained quite Pacific.
We had our first whale sighting just south of Cape Calvert.
Once in the calm and protected waters behind Calvert Island, the problems started. Without warning the diesel shut down. Did I mention that I only have one diesel? This was not a full blown emergency. The seas were calm and we were far from shore and had plenty of time to consider the problem. As any knowledgeable boater will tell you, diesels almost always fail because of fuel problems. (As a note, no knowledgeable boater owns anything with a gas engine.) We had just taken on fuel and I knew that the filter I was using was due to be changed. I had also modified the fuel system so that a new filter could be brought on-line quickly just by throwing a valve. As such, I threw the valve, we bled the engine (using diesel leeches) and off we went. I was concerned that our problems might be due to bad fuel from Port McNeil so just to be careful, I switched over to running on fuel from Anacortes in our Port Tank.
We continued up the Fitz Hugh Sound toward the Lama Passage. I was watching a BC Ferry closing distance from behind. I knew that we were about to be waked, and but big, but that really was of little concern as wakes are just part of boating, well, unless you have lots of dirt on the bottom of your fuel tank. The ferry passed and we rolled around a good bit and then it happened...the diesel shut down. Did I mention that I have only one diesel? I also had only two spare filters. Both filters in the system were now clogged. We removed the two filters and replaced them with the two new filters and switched back to the original starboard tank which was full of new fuel from Port McNeil. We had plenty of diesel leeches so we bled the system again and the engine roared to life. (Actually, we turned the key and she started, like the 35 year old oily lady she is.)
Here is the quandary. I was now almost out of filters with over 200 miles to Prince Rupert and only a small Indian Village (Bella Bella) and a resort (Shearwater) nearby. Still not sure whether I had bad fuel in one or both tanks, I knew that we could go no further without ample spare filters. The guides suggested that shearwater (two miles from Bella Bella) actually had a decent marine supply facility. A quick call on the sat phone (yes, I do have a sat phone -- safety first) and their last five filters in stock were earmarked for me. Filters that were $25 dollars at West Marine in Anacortes were $40 (Canadian) in Shearwater and worth every penny of it.
Like I said, it was rough day with a happy ending.
May 31, 2008 (Shearwater to Butedale 53 09,5N 128 41.6W Miles Traveled: 78 / Total Distance: 438)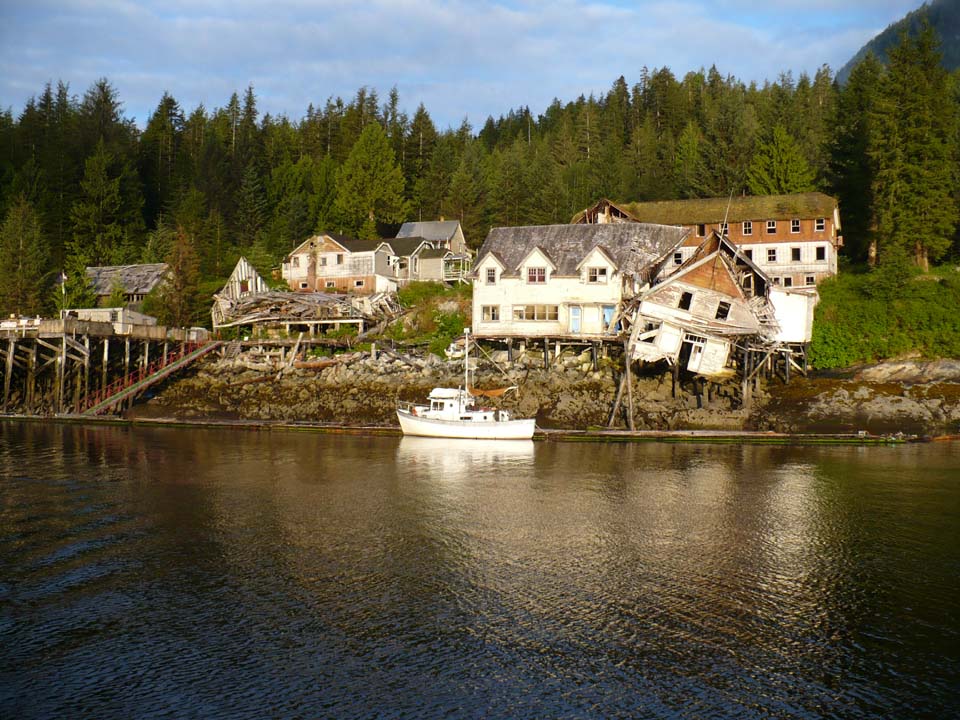 Beauty abounds up here. Our route took us out the Seaforth Channel, behind Lady Douglas Island, up the Mathieson Channel , through the Oscar Passage, across the Finlayson Channel, behind Cone Island, past Klemtu (another Indian Village) and up the Tolmie Channel to Graham Reach and then North to the Fraser Reach.
In the length of a day we were treated to views of spectacular mountains, helicopter logging operations, and close encounters with whales and dolphins. We noted that the snow level is below 1000 feet and the melting snow is running off the mountains in the form of incredible rushing waterfalls draining into the sea on all sides. Today is the reason I am here. It is the kind of beauty that takes one's breath away and with every turn, it just keeps getting pettier.
I did come to realize a rather substantial planning error on my part. Although I had ample paper charts, I did not have detailed electronic charts for the run North of Vancouver Island to Prince Rupert. While most is easy navigation, there were challenges in finding narrow passages and distinguishing routes to follow from routes that might lead us aground. The how to of old style navigation (still using the GPS for position) came back pretty quickly.
Our goal was to go past Klemtu but we found that there were few good anchorages along our route. Most were fairly deep and not really suitable. So we continued on until we reached the crumbling ghost-town of Butedale (Buttdale). This once thriving company town (1900-1930) was now in ruins. When I was here in 2001, it was pretty much empty but this time, we found a caretaker (Lou) and a few odder than life characters. Mostly what we found was a tired but functional dock to tie up to for the night. The town is falling into the sea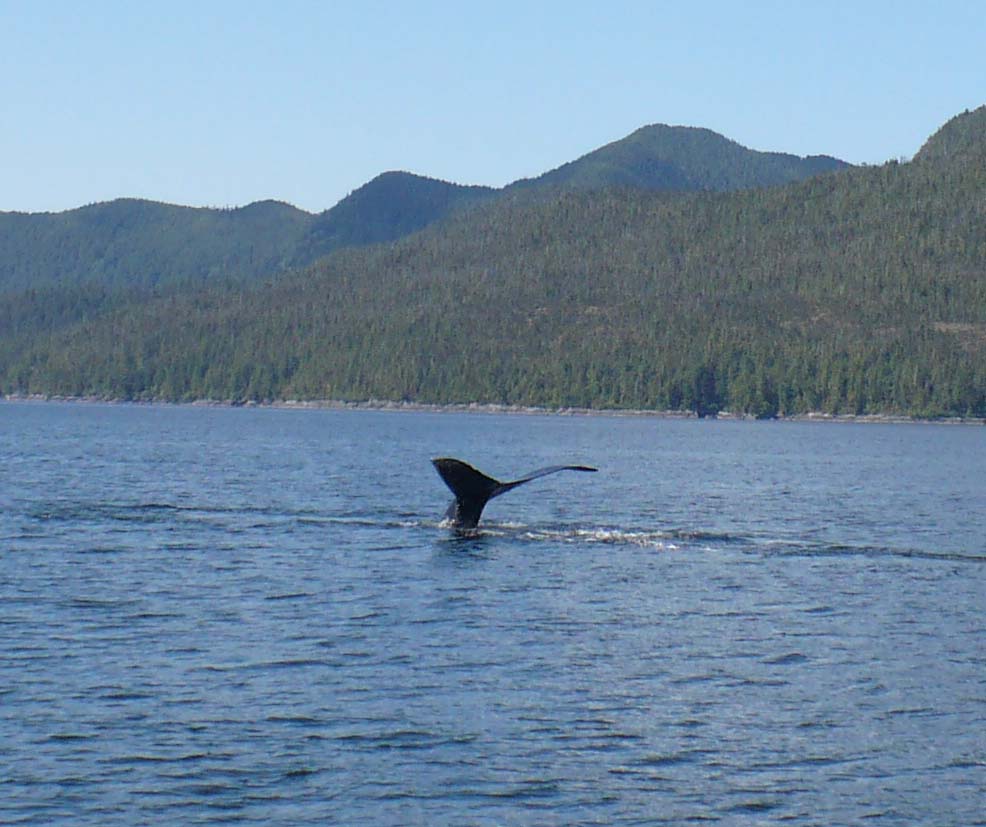 but that of itself creates some pretty incredible beauty. This is prime real estate that will no doubt sport a too clean and modern fishing resort some day but for now, it just a crumbling shadow of its former prosperous self. The caretaker, Lou, has built some docks -- if they can really be called that, and he has managed to get the water powered 1900's generator spinning (which he uses to turn an automotive alternator to charge batteries to run an inverter to power the few lights in the town.) The place is an electrical nightmare but the random risk of electrocution really adds to the ambiance of it all.
June 1, 2008 Butedale to Bishop Bay Hotsprings 53 28.44 128 50.3W Distance Traveled 23 Miles / Total 461 Miles
No trip up the inside passage is complete without a stop at Bishop Bay. It is a short run from Butedale but sacrificing the miles is worth it. Our route took us up Fraser Reach to the Ursula Channel and then into Bishop Bay.
At the head of the bay is a small dock with a boardwalk to the hot springs. To sit in the springs and enjoy the natural beauty is a once in a lifetime opportunity that I have now been lucky enough to experience twice. Hot springs are on the water's edge in a bay surrounded on all sides by towering mountains. Last time I was here, I watched as whales breached. Today we were just treated the view of the mountains and the sight of Bald Eagles soaring close overhead.
June 2, 2008 Bishop Bay Hot Springs to Verney Falls (Lowe Inlet) 53 33.5 129 34.0 Distance 44 Miles / Total Distance 505 Miles)
Another "must see" on this trip are the Verney Falls at the Lowe Inlet from the Grenville Channel. Although only 44 miles from Bishop Bay, we decided to make that our destination today. We left Bishop Bay and detoured North, going further up Ursula Channel until in intersected with the Verney Channel heading south. We followed the Verney Channel around Gribbell Island, where we were treated to spectacular views of snow covered mountains rising from the sea, before we entered and crossed the Wright Sound and headed North up the Grenville Channel. (NOTE: The Grenville channel is a passage out of the wilderness. Verney falls is a mere 60 miles from Prince Rupert.)
The weather frequency informed us that gales were blowing in the Hecate Strait just on the other side of the mountains and that a front was to pass through. Weather here is analogous to my dad when there is only one serving left on the community plate. No one in their right mind would trifle with such an immovable force. The normally calm fjords can turn scary quite quickly as storm driven winds are whipped up their lengths. Big waves and short chop are an experience I would rather leave for others. After some careful thought and consideration, we decided that it was wise to seek a protected anchorage and as luck would have it Verney falls is pretty well protected. The anchorage is deep (which convinced me that I need more chain). Although many choose to anchor in the somewhat deeper outflow of the falls (as I did in 2001), the impending weather convinced me to seek better holding ground in the shallows just off of the mud flats.. For today, it was really more about finding a good and safe anchorage to prepare for the weather. Around 4, the winds came up and it started to rain.
When the front finally did pass, we were prepared for the worst but as is often the case up here, nothing happened. Of course, that won' keep me from writing about it. For about 5 minutes the winds blew a bit harder and then they dropped. The anchorage stayed perfectly calm. It rained at some length into the night. I noticed a leak over one of the bunks in the aft cabin. (This has helped me to pick which berth to give to Jennifer when she arrives.)
On shore, I noticed a group of Canadian geese milling about with mischief in their eyes. They looked quite similar, perhaps even the same as the ones that I had seen in Ruxton anchorage. It occurred to me that perhaps these geese were stalking me. Of course, I knew that such thoughts were paranoid, unless of course they were true. You can just never trust those darn geese, stalkers of the wild as they are known to but a few.
On that subject of paranoia, I noticed that Rob seemed to always be on the boat where-ever we anchored. I will have to figure out what that is all about.
June 3, 2008 Lowe Inlet to Prince Rupert 54 19.22N 130 19.20 W Distance Traveled: 58 Miles/Total Distance: 563
Today we continued our trek up the Grenville channel, finally emerging into the muddy outflow of the Skeena river. We continued into the Arthur passage, then came within suing distance of the Lawyer Islands before traversing the Chatham sound, thus taking us back to civilization.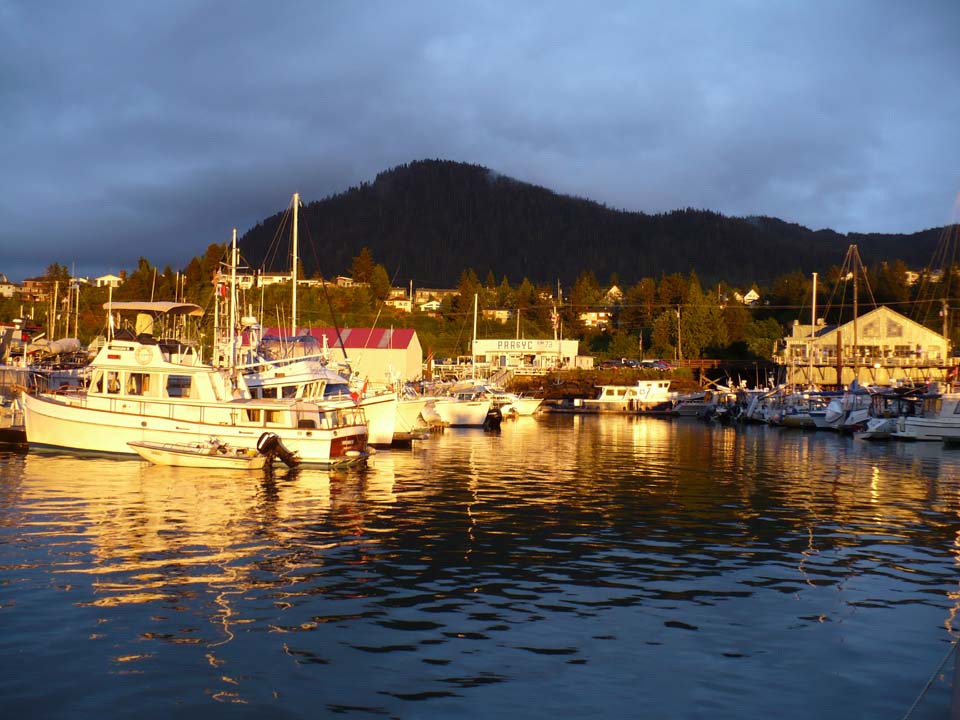 I wasn't in civilization too long before civilization reminded me that for fast food, hot showers, and fresh bagels, there is a price to be paid. In civilization, there is authority and where there is authority, the "man" will always try to hold you down especially if you make any kind of show of public disobedience (as I was soon to learn.)
I was tearing through Prince Rupert Harbour (again with the "OU") at the breakneck speed of 7 knots when the "man" in a high speed launch came barreling at me at far greater than seven knots. He waved angrily as he created a breakwater between my wake and a group of uncaring kayakers. (What kind of fool would go out in a vessel that is inherently unstable, has no working engine and at best leaves them separated from 49 degree water by less than inch?)
The radio crackled, and someone posing as a Canadian Harbour Patrol Officer informed me that I was violating the harbour speed limit of 5 knots. I apologized, said I didn't know, and I wouldn't do it again. (It is a good thing that the officer could not see that my fingers were crossed.) The radio crackled again. He thanked me. He welcomed me to Prince Rupert and told me to have a good day. I felt put in my place. Even in the great Northwest, abuse of authority is just a fact of life. (I did wonder if those Canadian geese had something to do with my run-in with the law.)
We fueled. We checked in to docks at the Prince Rupert Rowing and Yacht club. (Funny, since I neither have a yacht nor planned on rowing anywhere.)
Our stay at Prince Rupert, although brief was quite enjoyable. We dined on the local fare and I was able to violate FCC rules (which probably only apply in America) and receive DirecTV in Canada. I am sure that getting DirecTV in Canada is a gateway crime. I think that I will get a motorcycle next and go the speed limit. I felt proud of my show of outward disobedience and complete flauntitude of authority.
We purchased a detailed chart of the Venn Passage (my white whale of passages) to plan our exit from the Harbour to Chatham Sound for our crossing into Alaska.
NOTE: The Venn passage is a 4 mile, contorted, narrow, shallow transition from Prince Rupert Harbour to the Chatham sound that saves at least an hour on the trip north. The problem is that per all the guides, the passage requires local knowledge and offers more than a few opportunities for a wrong turn into water shallower than the boat is deep. Without detailed electronic charts to guide me, I spent a good bit of time in the evening planning our passage through the Venn Passage. I even stayed sober during the planning phase. I figured that I could drink in the morning before we left.
June 4, 2008 Prince Rupert to Foggy Bay, Alaska (via the Venn Passage and across the Dixon Entrance) Distance Traveled: 48 Miles/ Total: 611 Miles
To beat an exception low tide, we headed out at 4:30 (it was daylight) to the Venn Passage. Like a well oiled team (of swimsuit models), we made our way through the passage without incident. Then it was North into the Chatham Sound and before the seas could start to build, we crossed the Dixon entrance. (NOTE: The Dixon entrance is considered one of the more dangerous parts of this trip. It is directly exposed to the Gulf of Alaska and can sport big seas and high winds. It was almost calm for our crossing.)
Without incident, we crossed from Canada, a noticeably democratic country full of very nice exceptionally pale people smart enough not to have an idiot like George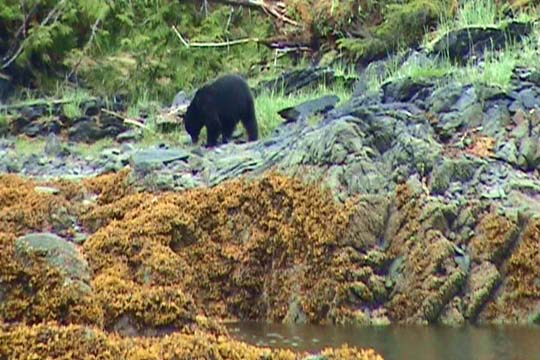 Bush as their leader, into America where we could breath the crisp free air of a land not too terribly different from Canada at this latitude. By observation, I think there are more beards per capita in Alaska. Certainly, that applies to the women up here. One good thing, we couldn't get much further away from George Bush without being in Russia.
Our day ended in Foggy Bay on the Revillagigedo Channel in a pristine and calm anchorage. (NOTE: I always look for anchorages with rivers flowing into the anchorage. This increases our chances of seeing bears. )
While scanning the shore for wildlife, I noticed two Canadian Geese, clearly honking away in their native tongue. (Do geese have tongues? Do they have lips?) The little bastards seemed so very smug. I was now sure they had been following us since Ruxton anchorage.
I called Customs, a subsidiary of homeland security, a subsidiary of Dominoes Pizza, to seek clearance to spend the night at Foggy Bay before checking in at Ketchikan tomorrow, to report Rob and the geese as possible terrorist threats, and to order a pizza. By the time that I got off the phone, I was fairly well convinced that homeland security wanted to see me return to Canada. They wouldn't even deliver a pizza.
And then, as if presented with a shiny metal object, my attention was diverted. A bear. Wow, how cool. Unlike the geese, I was fairly certain that it was not the same bear that we saw in Port Neville. How stupid one would have to be to not know that bears are not like Canadian geese.
Our count thus far, many Bald Eagles, three whales, several dolphin, two stalking Canadian Geese, two bears, and one Canadian Harbour Patrol officer.
June 5, 2008 Foggy Bay AK to Ketchikan, AK (City Float) 55 20.6N 131 39.02W 35 Miles/ Total: 646 Miles
Today is the day that we end this leg of the adventure. A mere 35 miles north from Foggy Bay is the thriving metropolis of Ketchikan. Upon exiting Foggy Bay, we immediately found ourselves rolling around in lots of slop. The winds had come up and were driving seas up the channel from the Dixon Entrance. I was so glad that we made the crossing yesterday.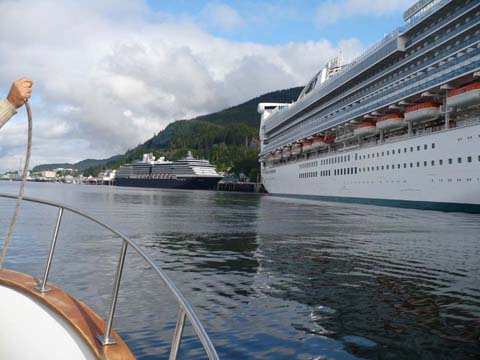 An hour or two into the trip, the seas were calm again. We arrived in Ketchikan in time for lunch. The harbormaster directed me to the City Floats which are located behind and in the shadow of the cruise ship docks. Ketchikan has enough space on the water for four cruise ships at one time. They have enough space on the land for about one cruise ship at a time.
NOTE: The first two days that I was in Ketchikan, there were four cruise ships in town each day. It was kind of like the geriatric version of downtown Manhattan at lunchtime. The good news is that the population density thins dramatically once you get beyond a days walk for the average cruise ship tenant (which is typically three short city blocks) away from the docks.
We called Customs to check in and they were kind enough to send an officer to the boat. Three minutes of intense grilling about whether we had Cuban cigars, fruit, or alcohol and we were welcomed back to America.
June 6 - June 7 Ketchikan
Much to my pleasure, I have discovered that my DirecTV receiver works at this latitude although the dish looks like it is pointing to the water. No need to cruise as I have TV.
I will be in Ketchikan until Jennifer and Arianna arrive on the 20th for part one of our summer cruising adventure. My first and most immediate priority is the maintenance of the Mighty Sea Spirit. She performed very well, having traversed over 600 nautical miles with but a few minor glitches. At the time of this writing, I have already completed most of the work which has included an oil change, a injection pump oil change, checking and filling all other fluids, and the installation of an underway, engine driven heater to take the chill out of the boat while transiting from place to place. Although there are a few other maintenance and installation projects, most are minor.
Rob has left the vessel to join another adventure on another boat heading down the coast.
My biggest problem thus far in Ketchikan was that I ran out of laundry and the nearest Laundromat is a mile away. Who would have thought that I needed more than one shirt, one pair of pants, and one pair of dainties to go on such a voyage. (Actually, I convinced the guy at the Laundromat to pick-up, wash and deliver my clothes back to the boat. In the meantime, I found a place that sells discount shirts and so I am looking like a low budget tourist in my new "Alaska" attire.
I will sign off for now and send a group email when I start adding more to the log again which will most likely be we get underway after the 20th.